Sankind Hand Sanitiser by Univet Ltd contains 75% v/v Isopropyl Alcohol
Univet is delighted to announce the launch of our new hand sanitiser, SanKind. SanKind is our laboratory tested, pH neutral sanitising agent formulated by our in-house expert team of pharmacists and scientists.
The core formula is based on the World Health Organisation (WHO) formulation, containing 75% (v/v) Isopropyl Alcohol. Sankind contains additional moisturising agents and alongside its neutral pH ensures an even spread with a comfortable experience.
SanKind's quick-drying capabilities leaves hands feeling soft and sanitised in nanoseconds.
SanKind's effectiveness has been accurately proven and tested. Sankind killed 100% of the most commonly encountered human pathogens at levels up to 1000 times that of which is normally found on the hands using only 1ml of product at time zero.

– Univet.ie
Univet has challenged Sankind and proven its effectiveness by our expert microbiological team against a broad range of commonly encountered human pathogenic bacteria such as Staphylococcus Aureus, Escherichia Coli, Fungi's such as Aspergillus Niger and Candida Albicans and Viruses.
Our expertise not only guarantees a safe and efficacious product but is designed to eliminate the threat of bacteria, viruses and fungi to those closest to you; without the harshness of the traditional formulas.
How to use SanKind Hand Sanitiser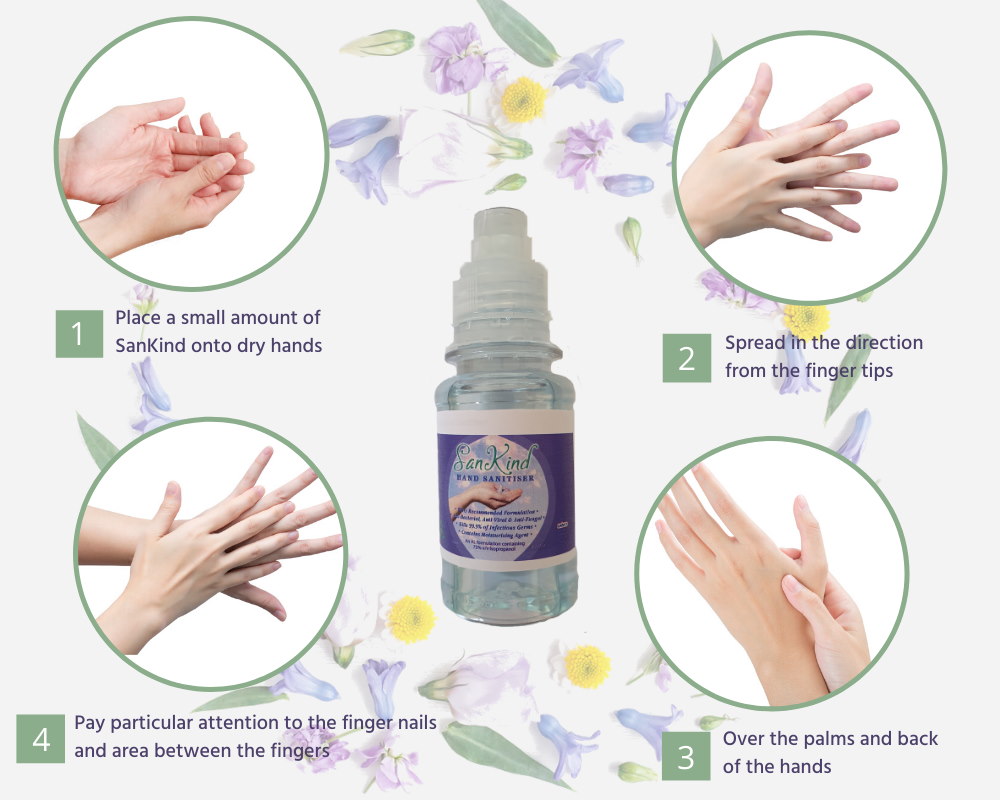 Average drying time for Sankind is 15 seconds, in line with WHO recommendation for contact time for hand sanitiser.  SanKind our clinically tested formulation offered from our family to yours!
For more detailed product information please see the product information for SanKind Hand Sanitiser
You can now buy Sandkind Hand Sanitiser online